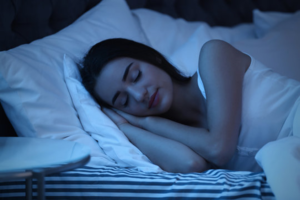 Sleep apnea is a very serious and widespread issue—did you know that it affects millions of people each night; about one in every fifteen people? It's characterized by pauses in breathing during sleep that is often marked by chronic snoring, among other symptoms—but the loss of sleep is far from the only problem that can result from the condition, and if left untreated, severe health complications can arise. That said, the cause of sleep apnea isn't always clear and there are normally many factors worth analyzing when trying to determine the cause of the condition. One of these conditions is actually temperature! Keep reading to learn more about this connection.
How Temperature Can Affect Sleep Apnea
Since sleep apnea is often the result of an obstruction in the airway, certain lifestyle factors such as weight usually contribute to it, as well as physical anatomy. However, there are many other things that can also play a role, including the very temperature of your bedroom!
If you've ever felt like you weren't able to sleep because a bedroom was too warm, you aren't alone; many people tend to prefer a cooler environment, which makes sense. In fact, according to research, the optimal temperature to set your bedroom thermostat to is between 60 and 70 degrees Fahrenheit, though personal factors like bedding and clothing also contribute to this measurement.
It's also worth noting that during times of extreme heat or humidity, it's often more difficult to breathe, especially for people with asthma or other lung conditions—as well as those with sleep apnea. Your body's temperature also fluctuates during the day based on your circadian rhythm, and heat exposure can also impact deep sleep and REM sleep. Although bedroom temperature isn't the sole cause of sleep apnea, it can without a doubt exacerbate symptoms; finding a temperature that works for you is crucial for obtaining quality rest!
Tips for Maintaining a Cool and Comfortable Bedroom
Even though it's always going to be in your best interest to receive professional treatment for your sleep apnea, there are still things you can do at home to manage your symptoms—including regulating your bedroom's temperature to create an environment suitable for sleep. Here are some tips to help you out:
Try to limit the number of distractions that occur around bedtime, such as loud noises or unexpected guests.
Wear cool, breathable clothing to bed and ensure that your bedding isn't too heavy/warm.
Clear your sleeping space of dust, dandruff, pet hair, and other allergens that might make it difficult to breathe.
Avoid late-night snacking, smoking, or drinking (alcohol) to limit the number of stimulants you're consuming before bed.
By eliminating potential disruptions and maintaining a comfortable sleep environment, you can manage your sleep apnea symptoms and promote a better night's sleep!
About the Practice
The team at Dentistry by Design is thrilled to provide patients and families in the Bartlesville, OK community with an exceptional level of care! Under the leadership of Dr. Luke Lumpkin, they offer a wide range of services including sleep apnea therapy that's designed to help you achieve healthier rest. If you have any questions about the blog or you'd like to schedule a visit for you or a loved one, you can contact the practice online or over the phone for further information or assistance: (918) 336-6777.