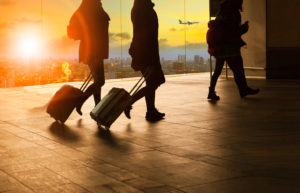 Whether you are traveling home for the holidays or planning a getaway to celebrate the New Year, it's important to properly plan before you go. This is especially true if you are impacted by sleep apnea. A common sleep disorder affecting roughly 20 million Americans, sleep apnea symptoms can put a damper on your fun if you're not careful. Keep reading to discover four tips from a dentist for traveling with sleep apnea.  
#1: When Flying, Check the Airline Guidelines
It's always a good idea to confirm beforehand what you can and cannot bring on board a flight. Luggage rules and restrictions often vary depending on the airline and whether you're traveling outside the country. In most cases, CPAP machines and oral appliances can be packed in either checked luggage or carry-on items. However, be sure to check the airport and airline-specific guidelines at least two weeks before your planned trip. Otherwise, you may be left scrambling at the last minute!
#2: Keep Your Prescription with You
The end-of-year holidays always see a significant spike in air travel. However, this year there is added strain on airlines and airports due to widespread staffing shortages. This could mean there is an increased risk that your suitcase may get lost or delayed in transit. To play it safe, keep your sleep apnea prescription with you at all times. If you're traveling with an oral appliance, store it in your carry-on bag instead of your checked luggage. Just be sure to keep the oral appliance in its protective case while you're on the move.
#3: For CPAP Machines, Check the Power Supply
Do you rely on a CPAP machine to treat your sleep apnea? Keep in mind that many foreign countries use different outlet shapes and voltage standards. This means you likely won't be able to use your CPAP machine during a trip abroad without a universal power adapter. If you will be sleeping somewhere unfamiliar like a hotel or Airbnb, you may want to pack an extension cord. This extra item will give you peace of mind knowing you'll be able to use your CPAP machine even if there's not a convenient outlet in your accommodations.
#4: For Oral Appliance, Pack Your Cleaning Products
It's easy to slip out of healthy habits when you're on vacation. However, it's essential that you continue cleaning your oral appliance regularly to prevent bacteria buildup. When packing your cleaning products, keep in mind that airlines have strict size restrictions for liquids. Be sure to double-check the rules when before leaving for your trip.
If you follow the tips above, you're more likely to have a fun, relaxing trip that isn't disrupted by sleep apnea. For more travel tips, don't hesitate to talk to an experienced sleep dentist.
About the Author
Dr. Luke Lumpkin has over a decade of experience helping patients in Bartlesville achieve quality rest. An active member of the American Academy of Sleep Dentistry, Dr. Lumpkin regularly provides oral appliance therapy at this private practice. For more tips for traveling with sleep apnea, visit the Dentistry by Design website or call 918-336-6777.