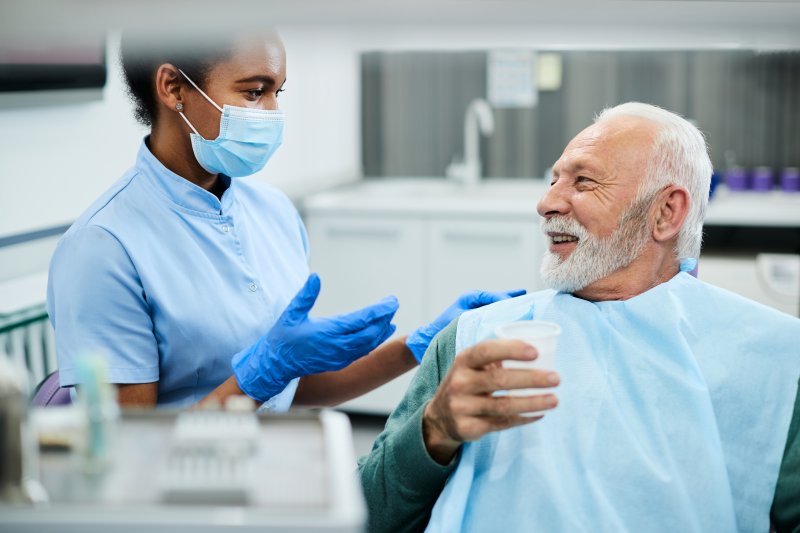 Biannual dental visits are an important part of maintaining a healthy mouth. These checkups allow you to thoroughly have your teeth cleaned and give your dentist an opportunity to do an exam and identify any oral health problems that need to be treated. If you wear full dentures, you may think attending these visits is no longer important, but that couldn't be further from the truth. Continue reading as we discuss four reasons why you should still attend dental checkups with dentures.
Reason #1: Maintain Great Oral Hygiene
When it comes to taking care of your smile at home, this means practicing good oral hygiene by brushing your teeth twice per day and flossing every night before bed. Since people who wear full dentures don't have any natural teeth left, their oral hygiene routine doesn't look quite the same. Dentures need to be cleaned at least once daily. This removes bacteria and food particles that have built up on them throughout the day.
It's also important to soak your restorations overnight to get rid of any leftover bacteria. This will also give your gums a break since they may be a bit sore from wearing your dentures all day. Going to dental checkups with dentures will let your dentist examine your restorations and determine if you can make any improvements to your hygiene routine.
Reason #2: Detect Issues Early On
Dental checkups with dentures also help keep oral health issues at bay. Your dentist will perform a thorough examination of the oral cavity during these visits to see if oral health issues like dry mouth, gum disease, or oral cancer are present. This will allow them to administer prompt care before these conditions get out of hand.
Reason #3: Adjust Your Dentures for Maximum Comfort
Over time, your dentures may start to slip or not fit in your mouth correctly. This is because the lack of stimulation in the jawbone with cause it to begin deteriorating over time. During your biannual dental checkups with dentures, your dentist will take a look at your jaw. If they notice that it has eroded more than the last time you were here, they may make adjustments to your dentures to get them to fit properly once more.
Reason #4: Prolong the Life of Your Dentures
Full dentures can last five to 10 years on average, but they will only last that long if you take good care of them. Along with cleaning and soaking them daily, this also means visiting your dentist every six months for checkups. This will allow your dentist to identify signs of damage or wear so they can have them repaired if possible.
Even if you don't have any natural teeth left, you still need to attend dental checkups with dentures. This will allow you to maintain a healthy mouth and good oral health for years to come!
About the Author
Dentistry by Design is led by Dr. Luke Lumpkin. He's a talented dentist who graduated in 2006 with his Doctor of Dental Surgery from the University of Oklahoma College of Dentistry. He takes pride in offering patients in the Bartlesville area a range of exceptional oral health services to help them maintain healthy smiles. He also offers care to people who attend dental checkups with dentures so they can keep their gums, jaw, and other oral structures healthy. Visit his website or call (918) 205-7083 for more information or to set up a consultation.