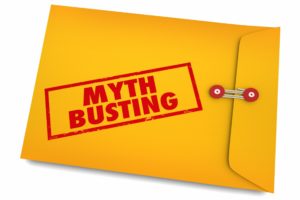 Dentures have been used for generations to replace lost teeth; however, they often have a bad reputation because of various misconceptions. Don't let common myths about dentures prevent you from rebuilding the beautiful, functional smile you deserve. Here are the facts behind 5 popular rumors about the tried and proven method of treating tooth loss. 
Myth #1: Dentures look and feel fake.
Fact: Dentures are more realistic than ever.
New materials, technologies, and techniques allow dentures to look and feel more natural than ever. Your dentist will use advanced technology to create the base of your denture to ensure it fits your mouth like a glove. Your new teeth will be made of high-quality, durable materials that look natural. After a few days of adjusting to your new denture, you may forget they aren't your real teeth.
Myth #2: You will never have to see a dentist again.
Fact: You must visit your dentist regularly.
Even if you've lost all your teeth, you must still commit to seeing a dentist regularly. They'll examine your mouth to look for any concerns, like sores, inflammation, infection, or oral cancer. Not to mention, they'll provide routine maintenance to ensure your denture continues to fit its best to promote its lifespan.
Myth #3: You never need to remove your dentures.
Fact: Dentures must be removed nightly.
No one wants to be caught without their teeth, but your oral and general health relies on taking your dentures out before going to bed. Your gum tissue needs time to rest or you'll be at risk of sores, infections, and inflammation. Your mouth is also the ideal breeding ground for harmful bacteria that can affect your mouth and body. Taking your dentures out at night gives your gums a break while allowing you to clean them thoroughly to remove bacteria that can compromise your health and the lifespan of your new smile.
Myth #4: Dentures are too expensive.
Fact: There are several options to keep dentures affordable.
Dentures aren't as expensive as you might believe because most dental insurance can be used to offset the cost. Depending on your policy, your plan can cover 50% to 80% of the expense after meeting your deductible. Besides using your dental benefits, many dentists accept various payment methods, including third-party financing.
Myth #5: Dentures last forever.
Fact: Dentures need to be replaced.
Unfortunately, dentures don't last forever. They need to be replaced every 5 to 7 years, depending on how well you care for them. If you are interested in a permanent solution, ask your dentist about adding dental implants to your new smile.
Your dentist will address any concerns during your denture consultation to have 100% confidence about the road ahead.
About Dr. Luke Lumpkin
Dr. Lumpkin earned his dental degree from the Oklahoma College of Dentistry and has regularly continued his education to provide advanced services. As a member of various professional organizations, including the American Dental Association, you can feel confident your smile is in good hands. Contact our office today to request your consultation.