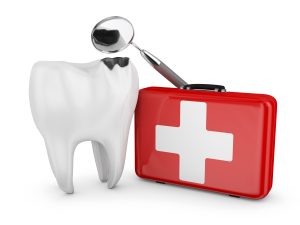 There's nothing like the holidays for putting a smile on your face. But smiling is the last thing you feel like doing when you're suffering from a toothache or other dental condition. Following a few suggestions from an emergency dentist in Bartlesville can spare you from needless suffering while you enjoy your seasonal celebrations.
Tips for Smart Holiday Snacking
All of us stray from our nutritional commitments a little bit when the Christmas season rolls around. There's anything wrong with this, of course. What's life without an occasional indulgence? But snacking can set you up for a dental dilemma unless you stick with the following guidelines:
Drink plenty of water. Not only will this keep you hydrated, it helps to minimize the effect of sugars and starches on your teeth. It's a good idea to follow up every alcoholic beverage or sweet dessert with a glass of good old H2O.
Enjoy your dessert as part of your meal, not as a standalone item. Eating a piece of pie or cake as with a nutritious meal is better for you than focusing entirely on treats.
Remember that sticky is icky. Sticky candies or starchy items are the dental version of a double knockout punch. They attach themselves to your teeth, softening their protective enamel layer while fueling decay-causing bacteria. Avoid these foods altogether or minimize your consumption of them.
Practice the basics. Regular brushing and flossing is important year-round. It takes on added urgency during the holidays, when you're more likely to entertain your sweet tooth. Remind yourself to follow these commonsense steps, preferably after every meal.
Keep a pack of sugar-free gum close at hand. Chewing gum releases saliva, which has potent teeth-protecting properties. Plus, being able to fall back on a stick of sugarless flavor will help you to resist temptation.
Avoid hard candies. Crunchy items can chip away at your teeth, exposing the sensitive inner layers to potential harm.
How to Make Your Own Dental First Aid Kit
Sometimes you can take all the precautions in the world and still find yourself in the grip of a dental emergency. When this happens, a well-stocked dental first aid kit can help you to manage your discomfort while you look for an available dentist in Bartlesville. You can buy these kits ready-made or create your own. Whichever way you go, your kit should contain these items:
An over-the-counter pain reliever like acetaminophen or ibuprofen.
A small mirror and flashlight for looking inside your mouth.
Some type of temporary filling for open cavities. A stick of sugarless gum will do the trick in a pinch.
A topical pain reliever. These products work by numbing the affected area in your mouth.
Emergency contact information. Your kit should include the phone number and email address of your dentist, along with that of a back-up dental provider care just in case.
The holiday are a time for savoring life's simple pleasures, including a few comfort foods. By celebrating in moderation and keeping some emergency items on hand, you can minimize your risk of a dental emergency while building memories you'll cherish for a lifetime. We wish you and your loved ones all the best, both now and in the new year.
About the Author
Dr. Luke Lumpkin has been practicing dentistry for over 10 years. He earned his DDS degree from  the University of Oklahoma College of Dentistry. You can reach his office online or by calling  (918) 336-6777.