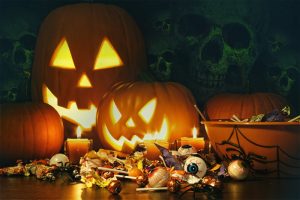 Halloween – a night of costumes, candy, and fun! What's not enjoyable is a cracked or decayed tooth that is the result of Halloween treats. However, all is not lost, because your children's dentist in Bartlesville has some helpful tips on how your family can keep Halloween both safe and fun. Read on!
Choose Your Candy Carefully
Believe it or not, there are some candy culprits that are worse for your teeth than others.
Hard candies tend to present a double edged sword because sucking on them gives sugar a longer opportunity to decay your teeth, while biting them can cause a crack or fracture.
Sticky candies adhere to your teeth and tend to stay around longer than they should.
Sour candy is both sugary and acidic, which is a double whammy for your teeth.
Chocolate is really your best bet, and dark chocolate has even less sugar than milk chocolate does.
Consider Donating Your Candy
Many dentists offer a candy take-back program, and there are also other organizations that send candy overseas to military troops. Consider having every member of the family choose a few pieces of their favorite candies and then donate the rest.
Eat Your Treats With Meals
Instead of snacking on candy throughout the day, eat your treats after meals. Your mouth produces the most saliva while you're eating, which helps to clear your mouth of excess food particles.
Don't Eat Candy Before Bed
Be sure you are brushing your teeth before bed and don't eat any candy after that. Going to sleep with sugar on your teeth increases your risk for developing tooth decay and cavities.
Drink Lots of Water
Water helps to wash away the extra food and candy particles that tend to hang around in your mouth. As an added bonus, it also keeps your body hydrated and your mouth moist.
Keep Up With Your Normal Hygiene Routine and Dental Checkups
Be sure you are brushing diligently at least twice each day and flossing at least once. Believe it or not, you can get cavities in between your teeth, especially when you're eating sticky candies. Sticking to your normal routine will help eliminate the bacteria, sugar, and acids from your mouth that cause decay.
Do you have more questions? Contact your family dentist in Bartlesville today.
About Dentistry By Design
Dr. Luke Lumpkin has been serving patients in Bartlesville, OK for over a decade. Patients love the laid-back environment he provides in which they feel comfortable and welcome. Patients will find a wide array of services at Dentistry By Design, which allow him to meet the needs of the entire family.
If you would like to contact Dr. Lumpkin, he can be reached by calling 918-336-6777 or through his website.