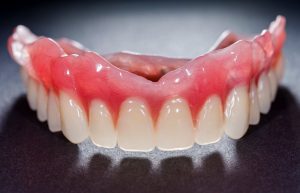 Whether you've had missing teeth for years or had teeth extracted recently, it can be quite jarring to have either a partial or full denture suddenly in your mouth at all times. Most people have difficulty adjusting to the fit of their denture, especially in the first few weeks of wear. Luckily, there are ways to make this process smoother and therefore more pleasant overall.
The next time you wake up in the morning, consider these five steps to make wearing your dentures in Bartlesville an easier process.
Follow Your Dentist's Steps Post-Extraction
If your teeth were recently extracted, it's essential that you follow all the steps your dentist tells you. Since every patient heals differently and your mouth will be sore after surgery, stay on top of your regular medication dosage. This will help reduce discomfort you may be feeling.
Understand That Wearing New Dentures is a Process
In the beginning, your mouth will feel sore as you continue wearing full or partial dentures. It may be difficult at first to speak while wearing them and certain foods need to be avoided as you adjust. Just remember that this process won't last forever and that you'll eventually forget that they're even there.
During the early stages of use, cut your foods down into smaller portions to make chewing easier. Start with soft foods as your mouth adjusts and avoid foods that are tough or difficult to bite into, such as apples or steak. Opt for soft breads, soups, stews, steamed vegetables, applesauce, pudding, or other easy-to-chew foods.
Massage Your Cheeks Daily
Dentists recommend that you remove your dentures every four hours in order to give your mouth a rest from wear. During this break, take the time to massage your cheek muscles. As you wear your dentures, these muscles will become stronger and used to having a denture stretch them out. Eventually, you'll have much more control while eating.
Sing as Your Speak
According to speech therapists, singing is a great way to train your speech while wearing dentures. Try singing your favorite music during the day to help you get used to forming words more easily. Choose slower music containing many smooth, fluid phrases. With this routine, you'll be able to speak comfortably while wearing dentures in no time.
Try Different Denture Adhesives
Before purchasing a denture cream, ask a dentist for a recommendation. There are many denture creams and adhesives available that make keeping your denture in place much easier. Experiment with different kinds to see which works best for you. However, don't assume that denture adhesive can solve a poorly-fitting denture, especially if you still feel soreness after wearing them several weeks after you initially receive them.
Need more tips on adjusting to dentures? Need to have them relined? Schedule an appointment with a dentist today!
About the Author
Dr. Luke Lumpkin earned his Doctor of Dental Surgery degree from the University of Oklahoma College of Dentistry. He offers full and partial dentures to replace missing teeth as well as tips for proper care in between visits. To learn more about his practice, you can contact him through his website.