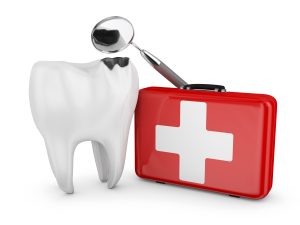 There you are, enjoying a leisurely lunch with your spouse, when all of the sudden…crack! Not only do you have a small piece of a filling in your mouth, but your lunch turned out to be not-so-leisurely after all!
If you've ever found yourself in a situation like this, you know that it can be hard to know if you should seek out immediate dental care or not. As an emergency dentist in Bartlesville, we've provided care for countless patients in urgent situations. We thought we'd write a blog to clear up any confusion about when you should pursue immediate care and when you can wait, so keep reading to learn about common emergencies and how to handle them!
Broken Tooth or Filling
If you're not in any pain, you can wait to be seen until it's most convenient. However, be aware that a broken tooth is particularly weak and is at a higher risk for breaking again.
Call us right away if you're in pain. In the meantime, you can take over-the-counter pain medications for any discomfort.
In any case, gently rinse out your mouth with lukewarm water and avoid chewing on the side of the broken tooth until your appointment.
Knocked Out Tooth
If you've knocked out a tooth, time is of the essence! Your chance of saving the tooth is the best if a dentist in Bartlesville can see you within an hour.
Call us as soon as possible and do the following until your visit:
Gently rinse the tooth off with water, taking care not to touch the root.
If possible, put the tooth back in its socket, facing the right way. If you aren't able to do this, you can keep it tucked in your cheek pouch.
It's crucial that the tooth stays moist, so if it can't be held in the mouth you can put it into a glass of milk or even water in a pinch.
Use a clean, damp towel to apply gentle pressure to the area to control any bleeding.
Jaw Injuries
If you've seriously injured or broken your jaw, go to the nearest emergency room as soon as possible. After you've been stabilized, you can schedule an appointment with us for any dental restoration that's necessary.
Toothache or Abscess
If you have a toothache, call us as soon as you can to make an appointment!
If it's accompanied by a swollen jaw or abscess, there's a chance you might have an infection. In that case, we want to take every precaution to prevent it from spreading.
To reduce pain and swelling before your visit, you can gently apply ice for 20 minutes at a time and take an over-the-counter pain reliever.
It's never pleasant to deal with a dental emergency, but with these guidelines, you'll at least be better prepared!
About the Author
Dr. Luke Lumpkin is a general and emergency dentist in Bartlesville who knows how alarming it can be when unexpected dental situations arise. In addition to providing outstanding immediate care, he has a calming, compassionate chairside manner that can put even the most frazzled patient at ease. If you have any questions, he can be reached via his website or at (918) 336-6777.