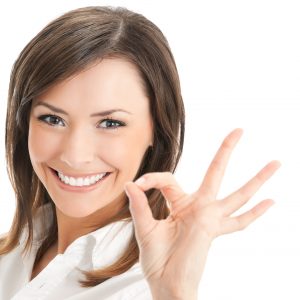 What is the best accessory? Is it a designer handbag, a cool pair of sunglasses, or a fancy European watch? No, no, and no. The best accessory is a great smile! You never have to worry about forgetting it at home, and there's an ironclad guarantee that it will never go out of style. If you want to give your smile a bit of TLC and make it look better than ever, consider professional teeth whitening in Bartlesville. How does it work, and how long can you expect it to last?
Your Teeth Whitening Options
Your dentist in Bartlesville offers two convenient whitening options: an in-office treatment or a take-home kit.
If you opt for the in-office treatment, your appointment will last about an hour or so. Your dentist will protect your soft tissues, like your lips and gums, with a special rubber shield. Then, they'll apply a special whitening solution, which will work in conjunction with a light to penetrate the surface of your teeth and kick those unsightly stains to the curb.
A take-home kit includes a custom whitening tray and a supply of a bleaching solution. You'll wear the tray for about 30 minutes each day for two weeks. In that amount of time, your teeth will gradually become several shades whiter.
Both options offer dramatic results in a short period of time. However, if your teeth are particularly sensitive, a take-home kit might be the better choice for you.
Is It Worth It?
It's true that professional whitening costs more money than OTC products that claim to whiten teeth, but relying on your dentist for a brighter smile is beneficial because you'll know that they won't let you undergo the procedure unless your teeth are healthy enough for it. Plus, professional whitening breaks up stains beneath the surface of teeth; OTC products usually don't.
You won't regret getting your teeth whitened. Your new dazzle will put a spring in your step and may even make others see you as friendlier, more successful, and more attractive. You definitely won't want to hide from cameras anymore.
Maintaining Your White Smile
Unfortunately, the results of your whitening treatment won't last forever. That's because teeth get stained by such things as food, drinks, age, and genetics. But there are things you can do to keep your gleam for as long as possible:
Cut back on dark foods and beverages, like coffee, wine, and berries. Use a straw when you're drinking staining beverages to minimize the amount of contact the liquid has with your teeth.
Maintain an excellent oral hygiene routine. Use a whitening toothpaste to fight surface stains.
Visit your dentist regularly for cleanings.
Perform touch-up whitening treatments from time to time.
A beautiful smile is the idea accessory! Why not treat yourself to a brighter grin in 2018?
About Our Practice
Drs. Scott Brecheisen and Luke Lumpkin work together with the rest of our team to help our patients love their smiles. Whether you have questions about whitening, other cosmetic procedures, or anything related to oral health, we're here to help! You can contact our office at 918-336-6777.