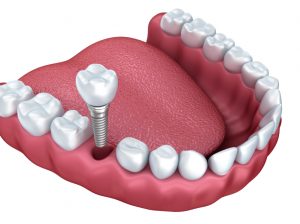 Whether you're missing a single tooth or a full arch, dental implants may be the best treatment option to complete your smile. Unlike other tooth replacement options, implants replace the root system of the tooth for a complete, natural looking and feeling dental restoration. If you'd like to find out more, don't hesitate to contact the Bartlesville dentist and team at Dentistry by Design to schedule a dental implant consultation.

What Happens if I Don't Replace my Missing Tooth?
Many patients think they don't need to replace just one missing tooth, especially if it's in the back of the mouth. However, even one missing tooth can have a significant impact on a patient's oral health. One of the earliest side effects is the shifting of remaining healthy teeth to fill in the space left by tooth loss. This can undo costly orthodontic treatment and create uneven tooth wear that leads to chips or other damage. Over time, the lack of stimulation from the root leads to diminished gum tissue volume and jawbone density. In addition to making it more difficult to replace teeth in the future, this can lead to the sagging or caved in facial appearance that many people associate with the elderly. Without root system stimulation over an extended period, surrounding teeth may become loose or fall out.
Are Dental Implants Better than Other Tooth Replacement Options?
They can be for many patients. Dental implants offer natural stability and look, feel, and function more like the lost tooth structure. Some of the benefits of dental implant-retained tooth replacement include:
Natural looking and feeling
Preserved gum tissue volume and bone density
Improved function compared with traditional prosthetics
Longer lasting
No impact on healthy oral structures
Isn't the Dental Implant Process Long & Painful?
The truth is, dental implant supported tooth replacement does take longer to complete than other restorations. However, the bulk of this time isn't spent in a dental office. After the surgical placement of dental implant posts, patients wait for three to six months to allow the implant to fuse with gums and jawbone. This process is called osseointegration, and it sets implant-retained tooth replacements apart from other solutions. Once fully fused, the dental implant mimics the lost root structure of the tooth. After the dental implant has fused with the jaw, you return to our office for the restoration part of treatment. This phase of the process does not actually take any longer than a traditional dental restoration, but with the underlying support of the implant post, the tooth replacement prosthetics lasts much longer.