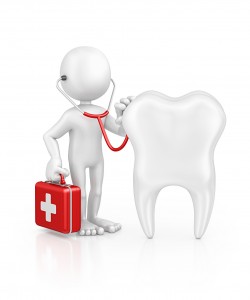 The doctors and nurses in hospital emergency rooms are trained to take care of patients in a variety of urgent medical crises. However, they typically do not have the training or skills to address a dental emergency. Dr. Luke Lumpkin, Dr. Scott Brecheisen, and the rest of our team here at Dentistry by Design are experienced and more than qualified to handle any and all of your emergency needs. No matter the severity of your emergency, let the emergency dentist in Bartlesville provide a solution that will leave you smiling every time.
Action Plan for a Dental Emergency
As with any other type of emergency, having a plan in place can save precious time and help keep you calm. Your first step should be to call our office at (918) 336-6777. We suggest you take a minute now to put our number in your cell phone contacts. One of our staff will be able to offer further instructions for your particular emergency. In addition, a same-day appointment can be scheduled if necessary.
Next, if there is any bleeding, apply firm but gentle pressure with a clean cotton cloth or a gauze pad. Bleeding should begin to slow or even stop in about 10 minutes. If bleeding continues unabated, then you should head to the nearest hospital emergency room. To ease swelling and pain, apply a cold compress to the lips or cheek.
How to Handle Different Dental Emergencies
What needs to be done in case of a dental emergency depends on what the situation is. The following are brief instructions on what you should do to ameliorate the emergency until you arrive in our office.
Knocked-Out Tooth. This is easily the most recognizable and frightening of all dental emergencies. As mentioned above, first stop the bleeding. Then, touch only the crown of the tooth and rinse in water. Try to place it back in the open socket. If this is too painful, then store the tooth is a container filled with milk or water. Get to our office as quickly as possible, because your dentist in Bartlesville may be able to replant the tooth.
Broken Tooth. Rinse your mouth with a mild saltwater solution. If this emergency is the result of a forceful blow to the face or lips, apply a cold compress. When you come to the office, bring the broken piece of tooth with you.
Lost filling or dental crown. When a restoration is missing, the tooth structure exposed may be quite sensitive. See if you can keep the filling or crown in place by dabbing a bit of petroleum jelly, toothpaste or denture adhesive to the tooth.
Toothache. A severe toothache may indicate that you have an infected tooth. Call our office immediately. The dentist may prescribe an antibiotic and will want to examine your tooth for signs that a root canal is necessary.
In Case of Emergency, Contact Our Office
These and other types of dental emergencies can all be taken care of at Dentistry by Design. Call our office right away went you need urgent dental care.