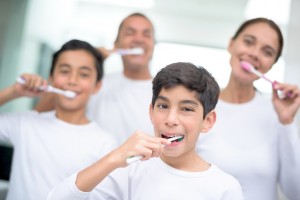 Hello, and welcome to your family dentist in Bartlesville's brand new blog! We're so excited to unveil our new website, as we hope it will become a real resource for your oral health and wellness. Please check back on our blog frequently (or, even better, subscribe!) to stay in tune with what's going on with the team at Dentistry by Design.
Because we want our blog, website, and entire online presence to be a truly valuable resource for you and your loved ones, we hope you'll feel free to give us your feedback next time you come in. What would you like to see on our blog? How could our website be helpful for you? We can't wait to hear what you think!
To start things off, we thought it would be a great idea to talk about the comprehensive services you and your loved ones can find in our office. Keep reading to learn more about our variety of offerings, then schedule an appointment for you or your family members today!
A Number of Services, All Under One Roof
Dentistry by Design is pleased to offer patients a comprehensive list of services from the comfort of our well-equipped office. Prevention is key, so we start off all treatment plans with a basic checkup and cleaning and x-rays. Then, based on your current oral health, we'll schedule any necessary restorative care. We can also discuss cosmetic treatments if you wish to dramatically enhance the appearance of your smile!
No matter the treatment that your smile needs, Dr. Luke Lumpkin and Dr. Scott Brecheisen care for all patients with a personalized approach. Trust our doctors and team of experts to provide a range of services for the entire family — from the littlest smile in your family to great grandma and grandpa.
Our areas of expertise include…
Caring for the Whole Family
When you trust your family's smiles to a single dental team, everyone's experience improves. Your little ones are more likely to feel comfortable visiting a dentist they know everyone else goes to, too. And you don't have to spend any extra time driving to different dentists or filling out an endless stack of new patient forms. As your family dentist in Bartlesville, we are happy to welcome all of your favorite smiles!
Book a Visit Today!  
People of all ages should have a checkup and cleaning every six months. When was the last time your family visited the dentist? Don't fall behind! Contact Dentistry by Design to schedule an appointment with the dentist Bartlesville trusts.